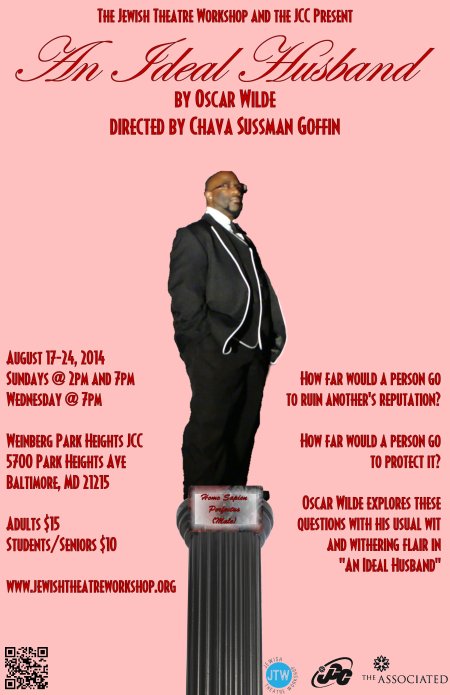 The Jewish Theatre Workshop is proud to present:
An Ideal Husband
by Oscar Wilde
directed by Chava Sussman Goffin

Five Performances:
Sunday, August 17th at 2pm
Sunday, August 17th at 7pm
Wednesday, August 20th at 7pm
Sunday, August 24th at 2pm
Sunday, August 24th at 7pm


How far would a person go to ruin another's reputation? How far would a person go to protect it? Oscar wilde explores these questions with his usual wit and withering flair in "An Ideal Husband".

We look forward to seeing you there!

Sponsorship and advertising opportunities are available. Please contact us at contact@jewishtheatreworkshop.org if you are interested in one of these opportunities.

ONLINE TICKET SALES FOR "AN IDEAL HUSBAND" ARE NOW CLOSED. TICKETS ARE STILL AVAILABLE AT THE DOOR

Special 20% DISCOUNT tickets available online until August 9th, 2014:



Prices Below Are Before 20% Early Bird Discount
General Admission: $15
Student/Senior: $10



For more information and group rates, contact The Jewish Theatre Workshop contact@jewishtheatreworkshop.org.



"Something's funny in the state of Denmark. Rottenly funny too as the Jewish Theatre Workshop presents Tom Stoppard's Rosencrantz & Guildenstern Are Dead. Directed by Brad Norris and Ariella McCown, this irreverent approach to Shakespeare's Hamlet gives audiences an existential, albeit comical, look into the minds of the servants who have been assigned to the maddened prince."

Read the review of "Rosencrantz and Guildenstern are Dead" written by DC Metro Theater Arts' Amanda Gunther here! Then, come out and see one of the remaining two performances, Thursday at 7pm or Sunday at 2pm!


---
Jewish Theatre Workshop
|
Promote Your Page Too
---