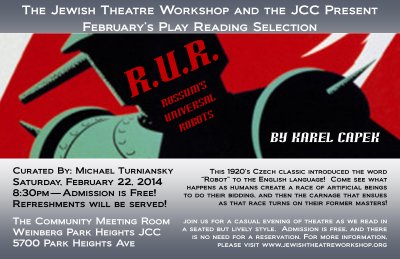 February's Play Reading will be...
R.U.R. Rossum's Universal Robots
By: Karel Capek
Curated By: Michael Turniansky

-Saturday, February 22, 2014 - 8:30pm

Admission is Free!
Refreshments will be served!
Community Meeting Room
Weinberg Park Heights JCC
5700 Park Heights Ave.

This 1920's Czech classic introduced the word "Robot" to the English language! Come see what happens as humans create a race of artificial beings to do their bidding, and then the carnage that ensues as that race turns on their former masters!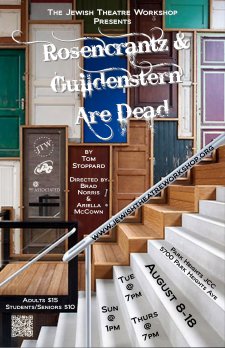 Thank you to everyone who came out to see "Rosencrantz & Guildenstern are Dead". We look forward to seeing you all again next season, as well as at each month's entry in our Play Reading Series!
---

"Something's funny in the state of Denmark. Rottenly funny too as the Jewish Theatre Workshop presents Tom Stoppard's Rosencrantz & Guildenstern Are Dead. Directed by Brad Norris and Ariella McCown, this irreverent approach to Shakespeare's Hamlet gives audiences an existential, albeit comical, look into the minds of the servants who have been assigned to the maddened prince."

Read the review of "Rosencrantz and Guildenstern are Dead" written by DC Metro Theater Arts' Amanda Gunther here! Then, come out and see one of the remaining two performances, Thursday at 7pm or Sunday at 2pm!


---
Jewish Theatre Workshop
|
Promote Your Page Too
---