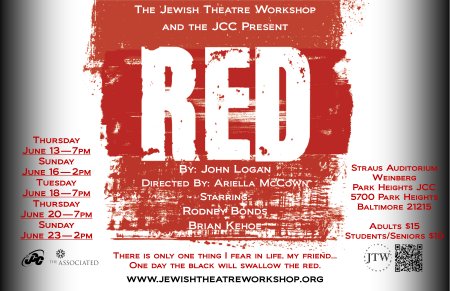 The Jewish Theatre Workshop is proud to present:
Red
by John Logan
Directed by Ariella McCown

Winner of the 2010 Tony Award for Best Play.

Master abstract expressionist Mark Rothko has just landed the biggest commission in the history of modern art, a series of murals for New York's famed Four Seasons Restaurant. In the two fascinating years that follow, Rothko works feverishly with his young assistant, Ken, in his studio on the Bowery. But when Ken gains the confidence to challenge him, Rothko faces the agonizing possibility that his crowning achievement could also become his undoing. Raw and provocative, RED is a searing portrait of an artist's ambition and vulnerability as he tries to create a definitive work for an extraordinary setting.

"Intense and exciting...a study in artist appreciation, a portrait of an angry and brilliant mind that asks you to feel the shape and texture of thoughts...RED captures the dynamic relationship between an artist and his creations." -NY Times.

Five Performances To Choose From!
Thursday June 13th - 7pm
Sunday June 16th - 2pm
Tuesday June 18th - 7pm
Thursday June 20th - 7pm
Sunday June 23rd - 2pm

Straus Auditorium
Weinberg Park Heights JCC
5700 Park Heights Ave
Baltimore, MD 21215

PURCHASE TICKETS FOR "RED" ONLINE

Special 20% DISCOUNT tickets available online until June 9th, 2013:



Prices Below Are Before 20% Early Bird Discount
General Admission: $15
Student/Senior: $10



For more information and group rates, contact The Jewish Theatre Workshop contact@jewishtheatreworkshop.org.




Be part of JTW's next show!!!

Casting notice for "Rosencrantz & Guildenstern Are Dead"

Auditions are June 2-3, 2012. Details in the casting notice!


---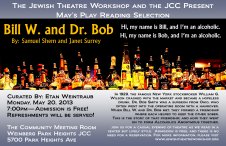 We'll be taking a break from the Play Reading Series in April due to Sefirat Ha'omer, however, information for May's entry to our Play Reading Series is here! We hope to see you all there!
---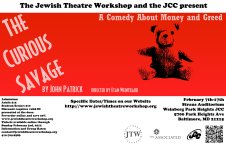 Thank you to everyone who came out to see "The Curious Savage". We look forward to seeing you all again in June for our next full production, as well as at each month's entry in our Play Reading Series!
---
---
Jewish Theatre Workshop
|
Promote Your Page Too
---