The Jewish Theatre Workshop is excited to finally be announcing our four week series of free play readings for the month of October! We have partnered with the Free Fall Baltimore program to bring you a different reading every Monday throughout October! Each reading is inspired by the cold chill of a dark fall night, and is guaranteed to thrill you! Each reading takes place at the Park Heights JCC in the Community Meeting Room. Everyone is welcome, admission is free, and there is no need for a reservation.
Click Here for More Information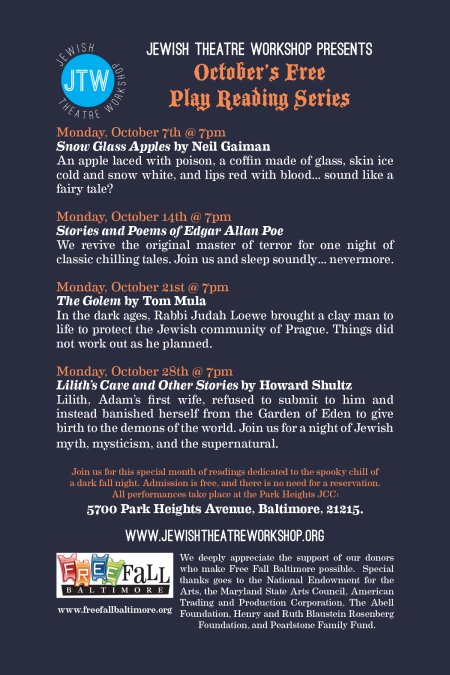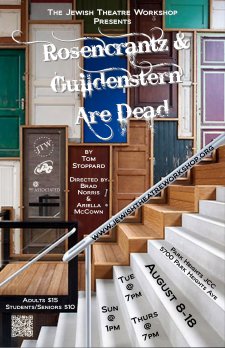 Thank you to everyone who came out to see "Rosencrantz & Guildenstern are Dead". We look forward to seeing you all again next season, as well as at each month's entry in our Play Reading Series!
---

"Something's funny in the state of Denmark. Rottenly funny too as the Jewish Theatre Workshop presents Tom Stoppard's Rosencrantz & Guildenstern Are Dead. Directed by Brad Norris and Ariella McCown, this irreverent approach to Shakespeare's Hamlet gives audiences an existential, albeit comical, look into the minds of the servants who have been assigned to the maddened prince."

Read the review of "Rosencrantz and Guildenstern are Dead" written by DC Metro Theater Arts' Amanda Gunther here! Then, come out and see one of the remaining two performances, Thursday at 7pm or Sunday at 2pm!


---
Jewish Theatre Workshop
|
Promote Your Page Too
---