ANNOUNCING THE CAST OF "Game Show" by Lew Riley!!

We are pleased to finally be able to announce the full cast for our production of "Game Show" by Lew Riley! Here they are:

Brad Bowers - Jerry Appelbaum
Heidi - Rakael Boozer
Larry Steele - Michael Turniansky
Kathy Burns - Rachel McGrain
William Baron - Ron Zyna
Bill McGuffie - Avraham Sonenthal
Ethel Tinsley - Talia Raun
Nedra Krebs - Taylor Gonzalez
Steve Nystrom - Brian Thomas Wise
Dolly Perkins - Jean Fiumara

...and of course, the crew as well:

Director - Etan Weintraub
Assistant Director - Todd Shaffer
Stage Manager - Yitzi Turniansky

More crew will be added, of course, but those three have been working hard to get this show off the ground, and now it's on to the rehearsal process!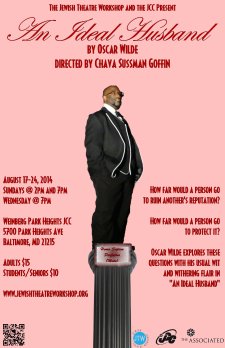 Thank you to everyone who came out to see "An Ideal Husband". We look forward to seeing you all again next season, as well as at each month's entry in our Play Reading Series!
---
Jewish Theatre Workshop
|
Promote Your Page Too
---